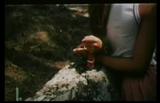 At a Russian pioneer camp, children participate in a traditional war game. But as the game progresses things begin to take a more sinister turn until the line between fantasy and reality starts to blur. In this scene, some boys capture a girl from the nurses camp, tie her up with a belt and interrogate her with the aid of a squirming live frog.
*This is in the original Russian dialog. I couldn't figure out who the actress was, or her character name sadly*.
Warning !! Young Damsel !!
Download the Clip