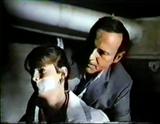 Andrea Elson portrays Alice Tyler, a member of a group of bright high school students and computer geniuses who use their abilities to solve crimes. In this episode, she has overheard two men planning to steal a jewel-encrusted crown while ordering fast food, but no one will believe her. She tracks the bad guys' car through the DMV records and is quickly captured. Tied to a chair, she is gagged with medical tape and held prisoner in the basement of an expensive home. Her struggles finally flip the chair over, alerting an unknowing accomplice to her plight, she tells him the other men are planning to kill him when the job is done and he unties her.
*Ah the 80's, when home computers were the size of a refrigerator and powered by paddle wheels, rubber bands and teams of rowing slaves, lol. It's a cute little show, reminiscent of the movie Wargames in some respects (which came out the same year as the TV show).

One of the more interesting touches in the clip is during one of the scenes where the bad guy is checking on Alice's bonds, he presses on the edges of her tape gag from behind for security. Don't know why that appealed to me, but it did.*
Warning ! Young Damsel !!
Download the Clip