Tuesday, December 28, 2010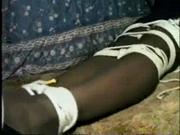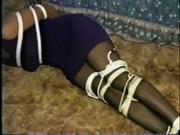 Lastly, we have this mini-movie built from three clips created by TAG Video. The content is a bit rough-hewn and amateurish; no slick, high tech, well lit operation here. Just a room, a guy, a girl next door, a video camera, some rope and some tape. But I think that is what makes it appealing in a way as the viewer can just as easily see themselves as the videographer and rigger in these clips. Enjoy !
Download Here
*And that will have to close this edition of Fetish Tuesday and this chapter of the online book that is Danger Theatre. To my knowledge there are no wild party plans for New Years, so updates should continue on schedule for Saturday morning. I'll post if things change. Thanks again for visiting and for your emails, suggestions and comments.
Tonight: Watch "Titanic" together. Have lots of tissue on-hand.
*