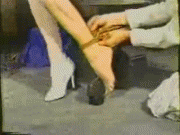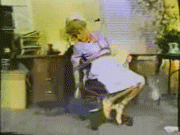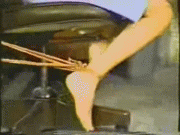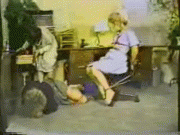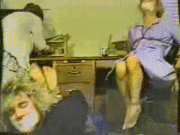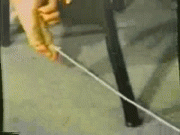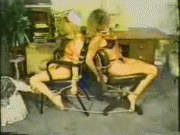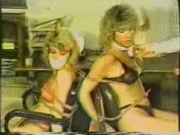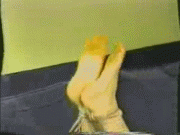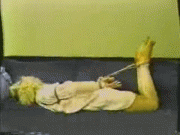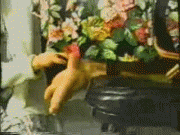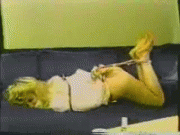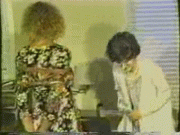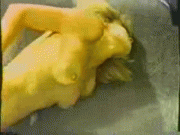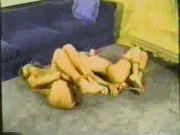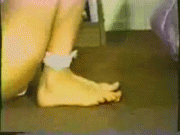 It's bare feet, hogties, toe-ties and tickling galore in this lost Harmony Communications video. Teri Rose and Diane Lacey portray two nurses left in charge of an experimental high intensity wrinkle cream that can actually restore the user's youth. Enter the villainous Steel Butterfly who is desperate to recover her lost youth and vitality, and isn't about to let two nosy nurses stand in her way ! First, Teri falls to the Butterfly and finds herself tied to the office chair, her white hosiery peeled off and then her feet are tied for some ticklish torture to get her to talk. She's later tape gagged and left to struggle with the Butterfly searches for the cream. dian returns and falls for the same ruse as Teri did and gets hogtied and gagged on the floor at Teri's feet. Stripped to bras and panties, the women are interrogated by the Butterfly. Diane's resistance gets her cleave-gagged and more ticklish torment follows for both. The Butterfly finally recovers the cream, and leaves the girls to their own devices, but that's not the end of this barefoot bondage saga !
*Sadly, I've been informed that Teri Rose is no longer with us. What a shame : ( *
Download the Clip
And other week closes here at D.T. Thanks again for making it all possible. Your emails and requests are more than welcome of course. Saturday I'll be posting the last episode of Penelope Pitstop as well as some of extra features from the DVD collection. Until then, I bid you a good afternoon and good night !
-Sasha-