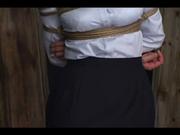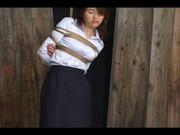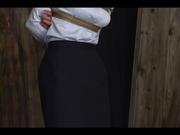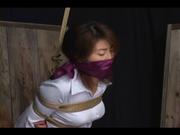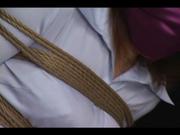 Lastly, comes this clip from a Japanese bondage video of a lovely lady in a blouse and skirt, tied standing barefoot on a mattress, the camera panning up and down her body before a wide piece of purple satin cloth is used to gag her bandit style.
Download
Here
*And that will close this Fetish Tuesday and this week's Danger Theatre. Thanks again for your visits, your emails and suggestions. I'll see everyone Saturday Morning.*
*Special Assignment !!*
This illustration is from the classic Nancy Drew story 'Mystery of the Winged Lion', which has always been near and dear to my kinky little heart because of this scene with all the girls gagged and bound together in one room. Your assignment (should you decide to accept it) is to create your own rendition of this scene as a drawing, a photograph, a 3-D graphic, short video, whatever visual medium you desire. Entries will be judged according to originality, style, etc and the best five will be posted on this blog to be voted on by the people, for ultimate bragging rights. No limit on the number of entries you care to make (but each entry must be unique, you can't just re-enter the same thing over and over again, get real.)
Your entry should be emailed to me by
February 25th, 2011
. All entries should have the words
Nancy Drew Contest
in the subject heading.
Good Luck !!